Tops Reasons Why One Must Optimize the Website for Mobiles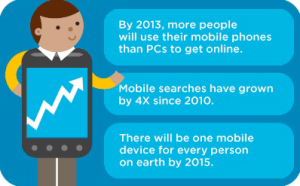 In today's fast paced world, people use mobiles for banking, shopping, entertainment, surfing, etc. Hence, it becomes important for businesses to optimize their websites for mobile and smartphones. That's the need of the hour!
If you do not have a mobile optimized website, there are chances that the mobile users try to access your website from smartphones and when they do not find it convenient to access your website, they would reach your competitors' website. By not having a mobile optimized website, you are giving your competitors a chance to stay ahead in the race.
Here are some major reasons why you should have a mobile optimized website:
Mobile friendly website is a must for small and large businesses so that the users can access the website with ease and without any trouble.
Studies show that most of the sales these days are made via smartphones and tablets. Simple and intuitive interface appeals the users to buy your products or services.
Mobile websites get more traffic as compared to desktop sites. This is one of the major reasons why you should opt for a mobile friendly website.
Your website should offer a satisfying mobile experience to the end users. The website should be easy to navigate on the small screens of the mobile phones.
Once you have optimized the website for mobile, here are some questions that you should ask yourself or the developers:
Does the website load in 3-4 seconds?
Is the content easy to read?
Does the website offer a great user experience?
Does the website have easy to activate call to action?
Once you pay attention to all the above mentioned criteria, you would be able to see an improvement in the conversion rate and boost in profits. Go for it now!